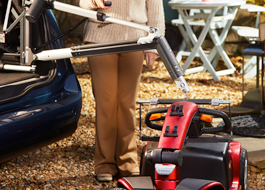 Smart Lifter
Stylish and strong, the Smart Lifter range is also easy to use thanks to a simple operating system that makes loading your mobility scooter into your vehicle possible at the merest touch of a button.
Why do customers choose the Smart Lifter range?
As build and battery technology improves, the weight of scooters and powered wheelchairs is coming down, but there are still many devices which some hoists cannot handle – which is where the powerful Smart Lifter range comes in.

At the same time, it can be fitted into many different makes and model of vehicle, as long as the rear opening can accommodate the scooter – and can be transferred from vehicle to vehicle.
Lifting capacity
The hydraulic lifting power of the Smart Lifter makes it possible to stow the heaviest scooters and powered wheelchairs on the market into a vehicle without your customers breaking sweat. They simply press a button and guide the mobility device into the rear of their vehicle, the Smart Lifter will do the rest.
How does it work?
Fold down your mobility vehicle and attach easily
Press the button to begin hoisting
Gently guide your mobility device as it lifts
Your mobility device is safety stowed