A range of hoists that make easy work of loading and unloading wheelchairs, mobility scooters and powerchairs from your vehicle
Easy to use
Lifts all types of scooters and powerchairs
Manufactured in the UK
Over 400 specific installation kits
Lifts up to 440lbs
Transfer easily to your next vehicle
Lift and load in just 60 seconds!
Simple four button control
Solid build quality lifts up to 440lbs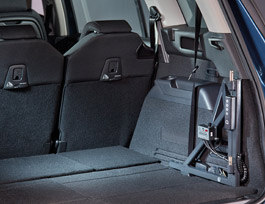 Leaves space in the trunk when not in use
Why choose the Smart Lifter?
Many hoists cannot handle the biggest and heaviest scooters or powered wheelchairs, but the Smart Lifter's awesome power means that it can lift up to 440lbs. At the same time, it fits perfectly inside many different makes and model of car - just as long as their boot opening is sufficient enough to fit your scooter inside.
Why choose a wheelchair hoist?
Wheelchairs and scooters give people with limited mobility the chance to get moving in and around the home, but if you want to travel further afield, installing a hoist in your vehicle will allow you to take your mobility device with you, without necessarily having to change your car.