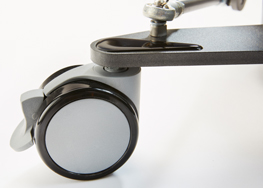 Smart Transfer Smartbase
Our Smart Transfer person lift has made getting in and out of their car possible for hundreds of people but its benefits can also be enjoyed around the house, workplace or even on vacation when used in conjunction with Autochair's highly versatile Smart Transfer SmartBase.
Why customers choose the Smart Transfer SmartBase?
Sturdy, unobtrusive and superbly manoeuvrable, the Smart Transfer SmartBase has soft-grip handles and a rechargeable battery and is used in conjunction with the powerful Smart Transfer person lift to transfer customers from one seated position to another, including from a wheelchair to a bed or toilet.

The detachable Smart Transfer person lift can easily be removed to allow the unit to be folded down for easy storage and transportation – and of course can be used to help the customer in and out of their vehicle.
Lifting capacity
The Smart Transfer Smartbase's lifting capacity comes from the detachable Smart Transfer Lift, which is packed with hydraulic power and capable of raising individuals weighing up to 330lbs. The arm is detachable and can be easily transferred into the car to enable you to enjoy days out, while the Smart Transfer SmartBase folds down for easy transportation.